East of Eden - John Steinbeck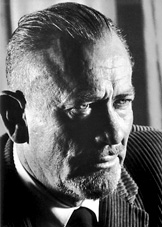 John Steinbeck (1902-1968)
Hopefully, this will be the only case (along with Wackerbarth's Logarithm Tables :-)) where I recommend a book as "hard to put down" without actually having read the whole book! But I have a fairly good excuse, I think. East of Eden was one of the very first novels I attempted to read in English when I was 14-15 years old. I was encouraged to try it by my father, who was a great admirer of John Steinbeck. And it was an excellent choice, not least because it was written in relatively simple language, with lots of dialogue. On the other hand, it was well over 500 pages. I had only gotten through the first half of the book, when in the autumn of 1955, the film version of East of Eden premiered in Stockholm. (52 years ago. Time does fly, doesn't it!) Luckily, the film started exactly at the point where I had abandoned the book. - Later, I returned to the novel to compare my impressions from the movie with the original, but I never did read the book from cover to cover.
As the title suggests, the novel is based on the Abel and Cain theme, i. e. sibling rivalry carried to its extreme. See Genesis. More generally, the subject is whether we have a free choice between good and evil.
The novel is set in the late 19th and early 20th century, mainly in the Monterey area in northern California. The principal character is Adam Trask, a decent and honest man with a checkered background. In the early part of the novel, he is the victim of his brother Charles' jealousy and greed. He falls in love with and marries Catherine, who turns out to be a very bad apple. She deserts the family shortly after having given birth to twin brothers, shooting Adam non-fatally when he tries to stop her. The twin brothers, Caleb and Aron, grow up. Caleb is restless, sensitive, brooding. Aron is pious and virtuous. Caleb becomes increasingly jealous of Aron. He discovers that his mother is not dead, as he had been told by his father, but is in fact the owner of a nearby brothel. He tries to win his father's love by offering him money he has made through speculation in the agricultural markets. His offer is brusquely refused. Adam will not accept money earned through "war profiteering".
This pushes Caleb over the edge. He brings his brother to their mother with fatal results. Aron gets drunk and enlists in the Army for WW1, where he is killed. Adam suffers a stroke. On his deathbed he blesses Caleb by whispering "Timshel", a Hebrew word meaning "thou mayest", to be understood that there is a free choice between good and evil.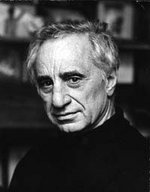 Elia Kazan (1909-2003)
Few
movies
have made more of an impression on me than
East of Eden.
Although at 15, I was at a very impressionable age, it
is
an outstanding movie. Today, it is best known for making a young unknown actor a Hollywood megastar. James Dean interpreted Caleb's tormented character in an unforgettable manner. But there were excellent performances from all the principal actors. And the film was directed by the Greek-American director and author Elia Kazan, who had a long list of memorable films to his credit, including
A streetcar named Desire
,
Viva Zapata
, and
On the Waterfront
starring a young Marlon Brando,
Baby Doll
and
Splendor in the Grass
. (I have not seen his later films.)
Kazan was one of the founders of Lee Strasberg's Actors' Studio in New York, a kind of workshop where actors developed their skills through "the Method". It is not clear exactly what that meant, but the general idea was that the actors should dig deeply into their own emotions and experiences in their acting, striving to become one with their characters, with room for improvisation. Many famous actors passed through the Actors' Studio over the years.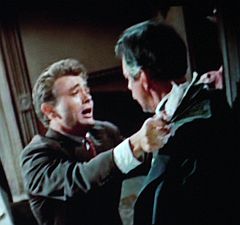 A key scene in East of Eden is where Adam refuses to accept the money offered by his son Caleb (just as God is less than pleased with the sacrifice brought by Cain in Genesis). According to legend, James Dean improvised an addition to the scene, that made it even more heartbreaking. Caleb was supposed to leave the room in despair after Adam (played by Raymond Massey) refused to accept the money. But Dean turned to Massey and appeared to make a last attempt to make him take the money. Massey, understandably, was not amused by this departure from the script, backed away, and let his arms hang limply while a moaning Dean embraced him. Only then did Dean run out of the room, to great effect. (Link added Dec 17, 2016.)
Later, after Caleb has sealed his brother's fate by exposing him to the truth about his mother, he is interrogated by his father about where Aron might be. "How do I know?" said Cal. "Am I supposed to look after him?" In Genesis, the corresponding passage reads: "Am I my brother's keeper?"
Mercifully, in the film, the full extent of Catherine's depravity is not shown. In the novel, she is a truly satanic person, killing her parents through arson, being unfaithful to Adam with his brother, trying to kill the twins in her womb with a knitting needle, killing the owner of the brothel where she works with poison, in order to take over. A witness is found drowned. Yet, Adam sees no flaw in her character, remaining deeply in love. - Critics have complained that Catherine is not believable. Steinbeck himself comments in the novel: "Perhaps we can't understand Cathy, but on the other hand we are capable of many things in all directions, of great virtues and great sins. And who in his mind has not probed the black water? - Maybe we all have in us a secret pond where evil and ugly things germinate and grow strong." Probably he wanted to create clear, opposite poles in Catherine and Adam, "too nice for his own good", in Caleb's search for his identity.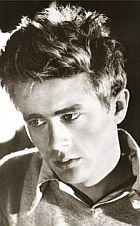 James Dean (1931-1955)
In contrast to so many films based on a novel, the movie follows the book faithfully in spirit, and often to the letter. The dialogue is often taken verbatim from the book. Some characters have been edited out, and of course many subplots are missing, but some characteristic details, such as the obnoxious nurse at Adam's deathbed, have been retained.
James Dean died in a car accident just a few weeks before I saw the movie. Under the influence of his spellbinding performance, I tried to adopt his demeanor and body language for several weeks thereafter, but of course nobody noticed. Nowadays, I feel a stronger affinity with the straight-laced Adam Trask, anxiously anticipating the coming highs and lows of my two children entering puberty.
During my year at Stanford University 1966-67, I took the opportunity to visit some of the places made famous by Steinbeck: Monterey, Carmel (including Pebble Beach and 17-mile Drive), and small towns such as Watsonville and Castroville ("Artichoke Capital of the World"). By then, I had read several additional books by Steinbeck: Grapes of Wrath, Cannery Row, Of Mice and Men, To a God Unknown.
John Steinbeck won the Nobel Prize in literature in 1962. He is still remembered as a great American author.
Further reading