It is not without a certain hesitation that I add this book to my list. When I first read it as a teenager, I quickly dismissed it as romantic nonsense dressed up as profound wisdom; the kind of pretty phrases that would turn the heads of young girls. And even today, if you look for it in a bookshop, you are likely to find it under "Esoterica", "New Age" or something along those lines.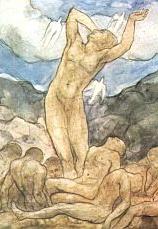 - Groucho Marx once joked that he would not want to belong to any club that would accept him as a member. In his case it was a humorous expression of self-deprecation, but I, too, am reluctant to have my name associated with the wrong kind of people :-)
The book sounded to me like a pastiche of the Bible with its solemn language and reverence for desert-tribe sages. I heartily dislike the Old Testament, even when admittedly there are passages of great wisdom and beauty there. I cannot stand the jingoism, the claims of being "God's chosen people", the xenophobia ("smite the heathen"), the imposed sacrifices of animals, the aborted sacrifice of Isaac (Genesis 22) and similar pettiness attributed to the Lord, the rigid and irrational rules of comportment, or describing joy as similar to how "men rejoice when dividing the plunder" (Isaiah 9:3). - It did not help that the author also was an artist, and that to me his drawings seemed as fuzzy and romantic as his texts.
Still, when I revisited the book at the age of forty, I was pleasantly surprised to find a wealth of intelligent observations and good advice. Many of the teachings seem surprisingly modern despite their form. Not "modern" in the sense of "trendy"; I mean "modern" in being highly applicable to our present society. Just take this passage on marriage:

When one considers that this was published in 1923 by a man who was raised in a culture not generally considered to be in the vanguard of female emancipation, one has to admit that it reflects a remarkably fresh view of what marriage should ideally be like. It is not surprising that this passage is widely used at present-day weddings.
Likewise, the following passage on children is often quoted:

Kahlil Gibran (1883-1931)
Self-portrait.

The first line should of course be understood: "Your children are not your children." The passage is a moving reminder that children are not the property of their parents (although nowadays it may be just as important to point out that nor are they the property of their government). Perhaps under the influence of this verse, I realized even before my children were born, that I was looking forward to getting to know them, rather than have them getting to know me. All parents know that each child has its own unique personality, but all too many of us (and our relatives!) act as if this was something to be rectified rather than celebrated!

Kahlil Gibran (originally spelled Khalil) was born in 1883 in a small village in Lebanon, at that time a part of Syria under Turkish rule. His impoverished family was Arabic and Christian. At the age of twelve he migrated to the United States with his mother, a brother and two sisters. They lived in poverty in Boston. He completed his studies in Lebanon during three years before returning to Boston. He lost his mother, his brother and one sister to illness in 1902-03. From that time onwards he made his living from his art and from his writing, helped by several female American admirers. His best-known work, The Prophet, was published in 1923. He died from cancer in 1931. - Here is a detailed biography.
The Prophet describes the last day of Almustafa, "the chosen and the beloved", before he leaves the town of Orphalese, where he has been waiting for twelve years for the ship that will carry him back to his native island. The people ask him to share his truths with them before his departure. - Although his teachings on Marriage and Children are the most quoted parts from The Prophet, there are 26 sermons, and there are many passages there that merit our attention. Here are just a few samples:
On giving:
On crime and punishment:
On teaching:
On religion:
The final sentence of the book:
A little while, a moment of rest upon the wind, and another woman shall bear me.
Gibran summarised his book thus: "The whole Prophet is saying one thing: You are far greater than you know, and all is well".
The complete text can be found here.
Although I am sure that fundamentalists of all creeds will find Gibran's book to be too soft, lenient and "washed out", I find his faith to be that of a true humanist, and his vision of God to be much more in line with the Islamic motto Allah akbar (God is greater) than with the petty tyrant depicted in the Old Testament.
For Swedish readers, I can recommend the translation by C-G Rosén and Johan Wretman from 1977. I find it to be better than the original: a simpler, clearer language. Unfortunately, it does not seem to be freely accessible on the Internet. It was published by Proprius, ISBN 91-7118-214-4.