Step 6. Use the "magnifying glass" in the MS Paint menu to expand the image, so that it is easy to outline the area to be transferred from the blurred image to the original image. Select the "lasso" tool (top left in the menu) and the transparency mode (at the bottom of the menu).
Step 7. Now use the "lasso" at top left to outline the area. Once you have closed the loop, drag the outlined area (looks like a rectangle, but in transparency mode it is just the area you have outlined) to the top image and place it where it should be.
Step 8. You may need to soften the contour around the blurred insert, so it looks a little more natural than I have achieved. Do this by expanding the image in MS Paint and using the drawing tools pixel by pixel .
Save the result.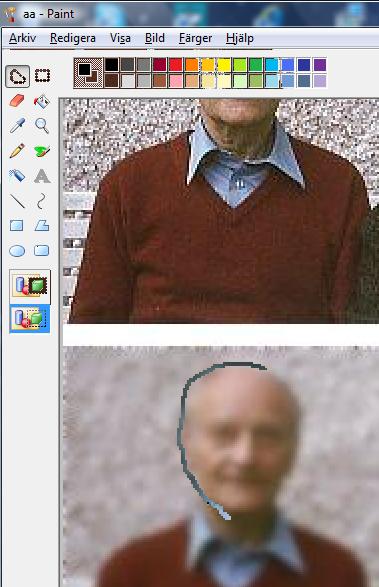 Selecting the blurred area in aa.jpg.